Stories Of Abused Men In Florida
---
| EJF Home | Find Help | Help the EJF | Comments? | Get EJF newsletter | Newsletters |
| Domestic Violence Book | DV Site Map | DV bibliography | DV index |
| Chapter 10 — Domestic Violence Against Men In The United States |
| Next — Stories Of Abused Men In Georgia |
| Back — Stories Of Abused Men In Delaware |
---
Stories here are reproduced under the Fair Use exception of 17 USC § 107 for noncommercial, nonprofit, and educational use.
If you have, or know of a story about abused men that should be posted here please send it, or a link to comments@ejfi.org.
---
Woman convicted in hit-man murders in Miami
Wife to begin serving sentence for 1992 contract murder of husband in Tampa
Jealous wife busted for arson in Cooper City
Deja vu murder suspect in Orlando
Murderer pleads for clemency, claims she was a 'battered woman' before killing her boyfriend in Tallahassee
Gainesville woman charged with manslaughter after stabbing boyfriend with scissors
Woman's 911 call with false allegations against boyfriend unravels identity theft scam in Fort Lauderdale
Contract murder trial stays put in Vero Beach
Land O'Lakes woman wanted ex-boyfriend's legs broken
Florida couple off to rocky start; bride released on bond in Stuart
Wife kills husband she thought was a prowler in Zephyrhills
Murder solicitation brings eight-year term for Clearwater woman
Sarasota woman tries to drive through garage door to run over her estranged husband
Wife arrested in aroma assault in Stuart
Estranged wife stabbed to death in Jacksonville after breaking into husband's home, no charges filed
Six and seven, husbands that is
Palm Bay woman shoots ex-boyfriend five times on his birthday
Kissimmee woman charged with murder after dirty dish fight
Woman charged with battering man in St. Johns County
Bradenton woman charged with attempted murder
Largo woman arrested after fiancé stabbed to death
Inverness woman charged with arson after trying to set her ex-boyfriend's bed on fire
Miami woman's conviction for trying to poison boss overturned
Suicidal woman accidentally kills husband, injures son in Seminole
Burt Reynolds suing ex-girlfriend for making false allegations of abuse
Florida v. Bowman: Mom kills biker boyfriend in Brevard County
Nova Scotia woman who killed husband in Canada faces new charges in Pinellas Park, Florida
Woman used many aliases and has long list of convictions
Second marriage and first murder
Third marriage and he dies as well
Out hustling again and foul play suspected
Woman faces perjury charges in Orlando after two men jailed in bogus attacks
There was evidence Faanes was a troubled young woman
Cognizant Jacksonville man in life and death tug-of-war with his wife
Billy Graham's daughter arrested in New Smyrna Beach for domestic violence
Winnipeg, Canada, woman gets 22 years for murder plot of husband in Panama City
---
The other face of domestic violence in Sarasota
Wife convicted of plotting plumber's murder for life insurance payout, faces death penalty in Daytona Beach
Seminole County woman charged with murder of her husband after trying to frame her son
Former NFL cheerleader and reality show 'The Bachelor' contestant arrested in Seminole
Detention officer at Miami-Dade County Corrections charged with domestic violence
Wife beats husband with a baseball bat in Tampa
Wikipedia Chief Operating Officer was convicted felon who had shot her boyfriend and caused a fatality in a hit-and-run accident
Palm Harbor woman arrested in 2007 murder of husband
Wife fires gun at Fort Lauderdale police chief while he lies in bed
East Fort Myers woman kills husband, mother and dog
Bradenton woman stabs elderly husband in neck with steak knives
Bradenton woman scalds husband's groin with boiling water
Naples woman hits boyfriend with baby stroller
Wife in Brooksville accused of hiring four hit men to kill husband
Angry wife arrested after repeatedly biting husband's penis in Deltona
Boynton Beach newlywed arrested after plotting to have husband murdered
Dunnellon woman charged with domestic violence after hitting boyfriend with raw steak
Sebring man's murder tied to domestic violence, authorities say
Domestic violence charges against retired Tampa Bay Buccaneer Warren Sapp
Deerfield Beach woman hits husband with SUV and keeps going
Wanton tamale assault lands Bradenton teaching assistant behind bars
83-year-old DeBary woman charged with felony in husband's beating
Palm Bay woman charged with attempted murder, arson
Stories — 1990-1999
Woman convicted in hit-man murders in Miami
July 2, 1994 — A jury on Friday convicted a woman of first-degree murder for hiring a hit man to kill her husband, then hiring a second hit man to kill the first one.
---
Wife to begin serving sentence for 1992 contract murder of husband in Tampa
February 13, 1997, Tampa — A Hillsborough County judge has ordered a woman convicted in the 1992 contract murder of her husband, a carnival worker known as "Lobster Boy," to begin serving a 12-year prison sentence. Judge William Fuente first sentenced Mary Stiles in 1994, but allowed her to remain free on bail while she appealed her conviction for the murder of Grady Stiles. An appellate court upheld the conviction in November. The defendant had hoped the way she had conducted her life since the trial and her family's pleas for mercy would persuade Fuente to reduce the sentence, but the judge said he had already been as lenient as he could.
Mary Stiles was convicted of hiring a teenage neighbor to kill her husband. She claimed Grady Stiles had terrorized his family for years and she feared he would have eventually killed her.
---
Jealous wife busted for arson in Cooper City
July 27, 1998, Cooper City (Reuters) — A Hollywood woman is being accused of setting fire to her estranged husband's apartment. Cooper City police say 28-year-old Domella Toth was jealous because the man had returned to his first wife. Investigators say she broke into his home once before...and has confessed to torching it this time around.
---
Deja vu murder suspect in Orlando
July 27, 1998, Orlando (Reuters) — An Orlando woman who gunned down her teenage boyfriend 16 years ago is back behind bars, accused of killing her latest companion. They're holding 33-year-old Christina Winfield without bail in Orange County for the death of 54-year-old Willie Campbell. Police say they haven't established a motive for the weekend killing.
In 1982 — when she was just 17 — Winfield was convicted of manslaughter for shooting her 18-year-old boyfriend in the head. She served four years in prison for that killing.
---
Murderer pleads for clemency, claims she was a 'battered woman' before killing her boyfriend in Tallahassee
September 17, 1998, Tallahassee (States News Service) — Attorneys for a woman who admits stabbing her boyfriend to death are in Tallahassee to ask Governor Lawton Chiles and his cabinet for clemency. Michele Roger says she killed her boyfriend because she was a battered woman. She claims that before she killed David Richmond in their Oviedo home he threatened to kill her and tried to shove her face on to a hot stove. Her father has admitted helping her dispose of the body by burning it, mixing it with concrete, and dumping it in the ocean.
---
Gainesville woman charged with manslaughter after stabbing boyfriend with scissors
November 11, 1998, Gainsville (States News Service) — A 35-year-old Gainsville woman faces manslaughter charges for stabbing her boyfriend in the leg with a pair of scissors. Police say the scissors came out during an argument between Angela Mauldin and her boyfriend, 46-year-old Johnnie Hamilton.
Stabbed in the leg, but unconvinced he was seriously hurt, Mr. Hamilton refused to go to the hospital. The next morning the landlord found him dead on the kitchen floor.
Charges against Ms. Mauldin were delayed until an autopsy could prove that the victim died from loss of blood due to the stab wound. Angela faces up to 15 years in prison if convicted.
---
Woman's 911 call with false allegations against boyfriend unravels identity theft scam in Fort Lauderdale
November 13, 1998, Fort Lauderdale (States News Service) — A hoax 911 call is unraveling a complex scam involving identity theft. Investigators say it started with 20-year-old Samara Seward posing as a parole officer to call the emergency operator. Police say Ms. Seward tried to have her boyfriend thrown in jail for violating probation by beating and firing shots at her.
Detectives say it never happened but Eric Rollins is still on the run.
A background check of Ms. Seward reveals she has several identities, all belonging to school teachers or aides who worked in Broward County. Investigators say she stole the identities of six victims to get an apartment, buy a car, get a cell phone and empty their bank accounts. Police suspect Ms. Seward is part of an organized ring because they say she's too young to pull this off by herself.
---
Contract murder trial stays put in Vero Beach
March 19, 1999, Vero Beach (States News Service) — The trial of a woman accused of hiring a hit-man to kill her estranged husband eight-years ago will not be moved from Vero Beach.
Now 39-year-old Connie Pfeiffer is charged with first-degree murder in the death of her husband, Alan, who was killed in March 1991. Prosecutors have won a jury conviction against Paul Evans —the supposed hit-man — and have recommended the death penalty.
Pfeiffer, who bought a horse farm in Ocala after her husband's murder, was arrested in March 1997 after the case was re-opened.
---
Stories —2000-2005
Land O'Lakes woman wanted ex-boyfriend's legs broken
February 18, 2000 — Hillsborough sheriff's investigators have arrested and charged a Land O'Lakes woman with hiring someone to break her ex-boyfriend's legs.
Investigators got a tip that Cheryl Bradarich, 29, wanted to hire someone to hurt 34-year-old Patrick Parisi of New Port Richey, an arrest report said. An investigator posed as a hit man, and Bradarich arranged to pay him $500 if he broke both of Parisi's legs, the report said.
She is charged with solicitation to commit aggravated battery. She posted bail and was released.
---
Florida couple off to rocky start; bride released on bond in Stuart
Reproduced under the Fair Use exception of 17 USC § 107 for noncommercial, nonprofit, and educational use.
The following appeared in the March 20, 2001, issue of the Denver Post (p. 6A):
Stuart, Florida: A newlywed bride was charged with domestic battery early Sunday after she allegedly hit her new husband with the wedding cake and kicked and struck him when he fell to the floor, according to Stuart police reports.
Kathyrn Marie Patrick, 36, was released from the Martin County jail Sunday on $5,000 bond. Her husband, Brett Patrick, told police they had argued after they arrived home from their St. Patrick's Day wedding. Officers said Mr. Patrick had bruises and scratches and telltale icing on his body as evidence of the abuse.
---
Wife kills husband she thought was a prowler in Zephyrhills
© 2001 TCM Breaking News
Monday, June 4, 2001 — A woman who apparently mistook her husband for a prowler shot him to death in their Florida mobile home.
Felicia Genter, 28, said her husband John woke and thought he'd heard noises outside, said Kevin Doll, spokesman for the sheriff's office in Zephyrhills.
He gave her a handgun and told her to lock the bedroom door. He then took another handgun and went to investigate.
She heard the outside door close and called out her husband's name twice after she saw a shadow underneath the bedroom door, Doll said.
When no one replied, she shot into the door six times. One of the rounds hit her 35-year-old husband and killed him. The couple had been married six years.
---
Murder solicitation brings eight-year term for Clearwater woman
© 2001 St. Petersburg Times
September 6, 2001, Largo — A Clearwater woman was sentenced Wednesday to eight years in prison for offering an undercover police officer $500 to kill her ex-husband. Christina Lue Decker, 36, of 2918 Drew St., No. 217, pled no contest in Pinellas-Pasco Circuit Court last month to a charge of solicitation to commit murder. She also cannot have any contact with the victim. She was arrested in February.
Clearwater police began investigating Ms. Decker in December, after receiving information that she wanted her ex-husband killed. The pair apparently were in a custody battle. Police arranged a meeting with Decker. She made the $500 offer and provided an officer with a photograph of her ex-husband, along with his home address.
---
Sarasota woman tries to drive through garage door to run over her estranged husband
Published with the permission of the victim but names have been changed to protect him.
The couple had been married for nearly thirteen years, and had a little girl who was nearly two at the time of this incident. Kathy had voluntarily moved out of the marital home in April 2001 and moved in with her parents, taking their daughter with her.
On June 20, 2001, the three of them had gone to dinner with Kathy driving. On the way home to Toms' house a verbal argument started. On arrival, Tom got out of the Lexus SUV and asked Kathy to stop arguing in front of their daughter. Like most women in similar circumstances, Kathy wouldn't shut up.
Tom then walked into the garage and Kathy started honking the horn loud and long.
Tom then walked back out through the garage and told her to leave in impolite terms, stating that they could argue later. He then went back into his house through the garage, pushing the garage door button to close the door. After he pushed the button, Kathy pushed the remote in the SUV to put the door back up.
After two or three attempts to close garage door with the button, he realized that she was hell bent on continuing the argument. He then walked back to the middle of the garage, pulled the emergency release string to unlatch it from the motor and walked back to the front of the garage to manually close the door.
Kathy's angry reaction was to ram the garage door with the Lexus. Tom, standing just behind the door, was knocked to the ground.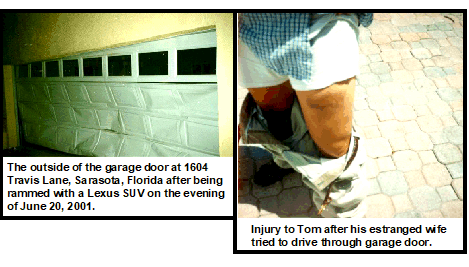 A neighbor had heard the screaming and the horn honking. He had then gone upstairs on his balcony and saw Kathy drive into the garage door.
After ramming the door, Kathy fled. Tom called 911 to report the assault and photos were taken. Before the police arrived, she called to see if Tom was O.K. He said he thought he was and asked her why she did that? Kathy said she was angry. He then asked her if she was angry at the garage door and she said "No." He asked her if she was angry with him and she said "Yes, you always walk away from me." Incidentally, walking away from a domestic argument such as this is recommended.
The investigating officers considered the event to be a violation of Florida State Statute 784.045, aggravated battery with a deadly weapon. The police made contact with Kathy via phone but she refused to meet with them for fear of going to jail. Can anyone imagine the police just phoning up a man after a felony assault and not arresting him?
Then, adding insult to injury, the state attorney refused to prosecute despite repeated requests by Tom that they do so, clear evidence a crime had been committed, and an independent witness to the crime.
The following is an excerpt of the memorandum of the State Attorney giving reasons why the State declined to prosecute:
"Based on the available evidence, the State cannot prove that the defendant intentionally struck the garage door, or intended to use her car as a deadly weapon. The defendant was attempting to open the garage door with her remote control and may have believed that the door was opening when she drove the car into it. Additionally, the State cannot prove that defendant knew that the victim was standing immediately behind the garage door. The door is opaque and although it has windows, the windows are at the top of the door. It is unlikely that the defendant, seated in a car, could not see the victim through the windows. If the State cannot prove that the defendant knew that the victim was immediately behind the door, the State cannot prove that the defendant intended to batter the victim. Additionally, the victim's injuries were minor; the State would be unable to prove that the victim suffered serious bodily injury or permanent disfigurement. See F.S. §784.045. Therefore, because there is insufficient evidence to prove the victim's complaint beyond a reasonable doubt, the State declines to prosecute the defendant for aggravated domestic battery.
The Equal Justice Foundation has numerous cases of men spending years in prison based on flimsier evidence of aggravated domestic assault than is present in this case.
---
Wife arrested in aroma assault in Stuart
© 2003 CNN.com
Reproduced under the Fair Use exception of 17 USC § 107 for noncommercial, nonprofit, and educational use.
Sunday, May 11, 2003, Stuart (AP) — A woman was arrested for dousing herself with perfume, spraying the house with bug killer and disinfectant, and burning scented candles in an attempt to seriously injure her chemically sensitive husband, prosecutors said.
Police charged Lynda Taylor, 36, with aggravated battery Thursday.
David Taylor, 46, is disabled due to allergies that resulted from exposure to toxic mold and hazardous chemicals as a construction worker, his doctors say. That exposure netted him $150,000 in a recent workers compensation settlement.
The fragrant incident occurred April 4 during a conversation the couple were having about separating after three years of marriage.
Taylor told investigators that his wife became enraged when he refused to give her half of his settlement.
"Lynda came in the kitchen wearing perfume and applied some to [her daughter]. Then [she] went around the house spraying Lysol and even sprayed some in my face," David Taylor wrote in his complaint.
Taylor's physician provided investigators with a letter confirming he suffers from extreme chemical sensitivity, "including all fragrances, air fresheners and other volatile chemicals," and that his wife was aware of it.
Lynda Taylor's attorney, Karen Steger, said the charge was a misuse of the criminal justice system.
"The guy's a faker," she said. "He just wants to gain an advantage in the divorce case."
David Taylor's lawyer, Cynthia Grooms Marvin, said she could not talk about the case.
---
Estranged wife stabbed to death in Jacksonville after breaking into husband's home, no charges filed
Local news — WJXT News4Jax.com
July 1, 2003 —Police said Monday there will be no charges filed in the stabbing death of a woman at a north Jacksonville home.
Investigators said Helen Smith had been stalking her estranged husband. He wasn't home when she went to his Jefferson Avenue home at 2:30 AM, but his girlfriend was. Police said she had a reason to use force when Ms. Smith came into the house.
A neighbor said she wasn't surprised that this happened. "Wednesday, she got out of jail for breaking into his house," the neighbor said. "He has a restraining order against (her)."
---
Six and seven, husbands that is
by Stephen Nohlgren, Times Staff Writer
© 2003 St. Petersburg Times
Seven marriages, big life insurance policies, a suspicious death and tales of a murder plot: the life of Janet Smith reached a mysterious crescendo with her last two husbands.
August 3, 2003, Mountain Home, Arkansas — Janet Smith lives in a cheap motel room on South Main Street, her bed wedged between her remaining furniture and cardboard cartons overflowing with court papers. Her chihuahua, Princess Diana Queen of Hearts, snoozes on a pillow.
Janet seems harmless enough — just a 61-year-old out on bail and down on her luck.
Prosecutors call her a murderous schemer. They have charged her with plotting to kill her longtime companion to collect on life insurance and enlisting her son to do the deed. Instead, he wore a tape recorder and turned his mother in.
In Florida, a Largo woman and her brother are following Janet's legal troubles with satisfaction.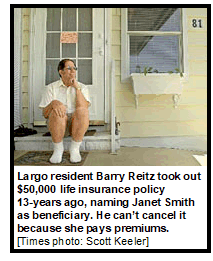 Thirteen years ago, their father met Janet through a personal ad and married her. Five months later, he drowned mysteriously on the Suwannee River. He was a $20,000-a-year plumber, but life insurance policies paid Janet almost $250,000.
His children claimed it was murder and challenged Janet in a highly publicized lawsuit in the 1990s. Investigators found two forged insurance applications, but no one could prove anything.
Barry Reitz took out insurance years ago that pays Janet Smith $100,000 if he dies accidentally. They were dating at the time, but he grew scared and moved to Pennsylvania for a time to hide.
Reitz, of Largo, can't cancel the policy, because Smith still pays the premiums.
A husband, a handyman
Janet Smith and men are a volatile mix.
She married seven suitors and accepted engagement rings from two others. Her domestic battles stretch through five decades, three states, numerous lawsuits and criminal charges set for trial September 22, 2003.
She says she was searching for the love she never received from an abusive mother. She never worked much, except for an occasional dog-breeding business. But she never had trouble finding lonely men who would help support her.
"A more evil woman I have never met," says 87-year-old William Joseph Robertson, husband No. 5, who lasted eight months before he filed for divorce in Marianna.
Robertson says Janet tricked him into giving her a nearly finished 40-foot sailboat, which he had been building with money he earned working oil rigs in Saudi Arabia. Court records show she paid him "$10 and other valuable consideration" for the boat.
Two months after her divorce from Robertson, Janet married husband No. 6: Cecil "Jay" Griffin, a retired Air Force veteran who would remain her partner in dysfunction for two decades.
Janet and Jay say they gave up intimacy after several years but never strayed far from each other until last year. That's when she was charged with trying to kill him in Arkansas.
Husband No. 7 was Randall Smith, a 47-year-old Largo plumber. Janet was still married to Jay when she met Randy through the personal ad.
"It was just one of those...once-in-a-lifetime things," she would later testify. "You meet somebody and know right then and there that this is the person you have looked for all your life."
Randy told friends that Janet owned a jeans factory in Ohio and was going to buy him a Corvette. She drove a 1977 stretch limo. When she moved in two months later, Janet's "handyman" often stayed overnight in a spare room or in Randy's driveway in a recreational vehicle.
The handyman was Jay Griffin, who was still Janet's husband. He worked on Randy's house. He tended to several dozen chihuahuas that Janet was breeding for sale. The three made weekend jaunts to a ramshackle house that Jay and Janet owned on the Suwannee River.
Janet describes Randy as intensely jealous, but she testified that he knew Jay was technically her husband. "If Randy and I was going to have anything permanent, somebody had to take care of those dogs."
In May 1990, she divorced Jay and married Randy.
Randy never mentioned to friends and relatives that the "handyman" was Janet's ex-husband. Randy's uncle and supervisor, Shirley Shrewsbury, says Randy once came to work agitated. He had just returned from the river, where a store clerk had referred to Jay as "Mr. Griffin," Janet's surname from her previous marriage. Randy demanded to see Jay's driver's license. When Jay refused, "that really set (Randy) off."
A few weeks later, Randy was dead.
The drowning
On October 14, 1990, Jay Griffin showed up at the Dixie County jail at dawn. The previous night, he said, he and Randy Smith had paddled a homemade raft into the middle of the Suwannee to fish. It was roped to a tree and held in place by an anchor.
The two men argued over Janet, tussled and fell in, Jay said. Neither could swim, but Jay said he grabbed onto the tether rope and made his way to shore. Randy — husband No. 7 — drowned. Janet slept through the ruckus at the house, which was 1,200 feet away on high ground.
Special agent Bill Pfeil of the Florida Department of Law Enforcement worked nearly four years on the drowning before closing the case.
"I really believe they killed this man, whether or not I'll ever be able to prove it," Pfeil says.
In a 1994 memo, he summarized his suspicions.
• Randy's body was found about five feet upriver from the raft, lodged on the upriver side of a submerged log. "People don't float against the current," Pfeil says.
• Randy's friends and family said he was deathly afraid of the water. "Smitty wouldn't even get in a canoe with me and the kids," says Karen Purdy, Randy Smith's first wife.
• During Randy's first marriage, his only life insurance was a $10,000 policy his employer provided. In his five-month marriage to Janet Smith, he took out several policies that ultimately paid nearly $250,000. An FDLE handwriting analyst concluded that Randy's signature was forged on two $30,000 policy applications, although the analyst couldn't say who had signed them.
Randy Smith's children — Kathryn Riddlebarger of Largo and Randall Smith Jr. — sued their stepmother in Pasco-Pinellas Circuit Court, trying to prevent her from collecting on the insurance and inheriting their father's house.
They noted that their father's watch and wedding ring were missing when divers pulled his body from the river. Janet had an answer.
"Randy was a clock watcher," she testified. "I told him, 'Honey, when we are on the river, time doesn't mean anything.' So he took it off and put it in the bait box."
She testified that two months after Randy's drowning, she accepted engagement rings from two Pinellas men. One was Barry Reitz, 64, who took out life insurance naming her as beneficiary. The other was Charlie Miller, 66, who was found dead in his house by Jay Griffin. Miller had heart troubles, and his doctor ruled it a natural death without examining the body.
Janet denied having any insurance on Miller, though FDLE agent Pfeil notes that there's no central registry that can track insurance polices. "I don't know how many more she might have had on Randy or anyone else. I have no clue."
"I thought it smelled to high heaven," says Circuit Judge George Greer, who ruled for Janet in the civil case. "There was truly a lot of suspicious stuff going on. But there was no proof."
The tapes
After Randy Smith's drowning, Janet Smith and Jay Griffin moved to her native Ohio, then to the Arkansas Ozarks, land of catfish fries and a car dealership that advertises itself as Christian.
They paid $229,500 for a house they called the "mansion," complete with front porch columns and a swimming pool out back. They were bankrolled by Randy's life insurance and an $80,000 insurance payout from their Suwannee River house, which burned down. Janet was on Social Security disability, and Jay had Social Security and an Air Force pension.
In May 2002, they squabbled over money and Jay moved to a motel. A few weeks later, Janet's son showed up at the sheriff's office to say his mother wanted him to kill Jay to collect on life insurance.
As a boy, Matthew Paxton — son of husband No. 2 — and his six siblings were removed from Janet's care by child welfare workers. He had served 12 years in prison and was no angel. While visiting Arkansas a few weeks before he turned in his mother, he says, he served as a lookout while Jay drove his Dodge van over a cliff to collect the auto insurance.
But Paxton says he drew the line at murder.
His mother began to discuss killing Jay after he had moved to motel and began withdrawing money from the bank and running up credit cards, Paxton told investigators. He said he thought she was joking at first, but talk grew more serious, he secretly turned on a tape recorder.
The tapes, which a jury will evaluate, are rife with gaps and incomprehensible conversation, according to transcripts. But some sentences are clear, as Janet and her son discuss various options. They first talk of having Paxton drive Jay off a cliff in Janet's car. "That would get the car paid off. That would get me a new car," Janet says on tape. "I'd get the insurance money and get me the f — out of here."
They discuss shooting Jay in the head, then telling the police it was suicide.
"I was up half the night thinking about it," Janet says. "He could be sitting at the table and walk up, like just do it right-handed, so that you're standing right behind him like this. And then, when there's blood splattered, it goes out that way."
The final plan, Paxton said, was to ask Jay to help pull a tarp over the swimming pool. Paxton would push Jay in, throw the tarp over him and jump on top so he couldn't get out. "You got to get him while the pushing's good," Janet says on tape.
Melani Barnes, a friend who traveled with Paxton to Arkansas, told deputies she heard Janet discussing these murder plans as well.
Janet says it was all a huge joke. Her son watched TV crime shows and pestered her to talk about the perfect murder, she says. They just used Jay as an example. Her son set her up, she says, so he could steal her Jeep and other possessions.
The tapes also hold interest for Florida: Janet repeatedly tells her son on the tapes that Jay recently had confessed to drowning Randy Smith 12 years ago on the Suwannee. Jay became enraged with jealousy, pushed Randy in and shoved a cane down his mouth, Janet says. She reiterates that she was asleep in the house at the time.
"He killed Randy," she tells her son. "He told me that just last month. He finally admitted it."
After her arrest, Janet gave the St. Petersburg Times a copy of what she called a signed confession from Jay. She wrote the FDLE to tell them about it as well. She didn't tell any authorities before her arrest, she says, because she wanted to gather more evidence and "go for the jugular."
In an email interview, Jay Griffin denies drowning Randy or signing any confession. "Janet has somehow managed to add my signature to that document," he says. "She can manipulate documents to look as if they are genuine."
He also denies staging a phony car-over-the-cliff accident. It really was an accident, he says. He blacked out and somehow rolled out before the car went over.
Back in Florida
When FDLE agent Bill Pfeil checked 13 years ago, six of Janet Smith's seven husbands were still alive. Pfeil suspected that Randy Smith was murdered, but the evidence was circumstantial. Even the lawsuit against Janet was unsuccessful.
"If you can't win a civil trial," Pfeil asks, "how do you expect to win a criminal trial?"
Janet's Arkansas charge of solicitation for the murder of Jay Griffin resurrects the possibilities: Besides the tapes, there is Jay. In Florida, he never could be subpoenaed to testify. In Arkansas, he presumably will take the stand.
Pfeil says he expects to reopen the Florida drowning investigation "after Arkansas has run its course. They've got more in their case than we ever obtained down here."
No one can insure other people's lives without their consent. But once granted, a policy is very difficult to reverse.
Barry Reitz was on the rebound 13 years ago when he met Janet Smith through a personal ad. He cashed in his IRA and gave her money. He took out a $50,000, double indemnity life insurance policy, naming her as beneficiary.
"She has such a way about her," he says now. "It was the craziest thing I ever did."
He moved to Pennsylvania for a while to get away from her. Janet discusses him on the secret tapes.
"We need to set up the computer to find out if that old guy in Pennsylvania is alive or dead. Right there's 50 of it. If he dies in an accident, that's 100. There you go. I couldn't do that. That there, that's nasty."
That statement implies that Janet would not consider killing Reitz. But he's not convinced.
John Hancock Insurance Company won't cancel the policy, because Janet owns it and has faithfully paid the $104 monthly premium. Nina Bannister, spokeswoman for Florida's Office of Insurance Regulation, agrees that the owner controls the policy, not the person whose life is insured.
Reitz says he alerted John Hancock and the state attorney to investigate if anything untoward should happen to him.
---
Palm Bay woman shoots ex-boyfriend five times on his birthday
Local news — WKMG MyCFNow.com
October 2, 2003 —A 52-year-old woman in Palm Bay was arrested Thursday for shooting her ex-boyfriend five times on his birthday, according to Local 6 News.
Briane Gilliem, 44, was shot in front of his home located in the 1300 block of Defender Street around 10 PM Wednesday. Police believe Mr. Gilliem was standing in his driveway when Levan Clevenger drove her car in and began talking. At some point during the conversation she began shooting, Palm Bay Police spokesman Barney Weiss said. Ms. Clevenger was still at the house when police arrived. According to public records, Ms. Levan Clevenger is a real estate agent in Brevard County.
Ms. Clevenger was taken to the Brevard County Detention Center.
---
Kissimmee woman charged with murder after dirty dish fight
© 2004 local6.com
31-year-old woman charged with murder after roommate found dead
January 26-27, 2004 — A woman shot her roommate to death less than 24 hours after calling police during an argument between the two over dirty dishes, officials said Monday.
Yolinda Wright Zinnerman, 31, of Buenaventura Lakes, was charged with murder Sunday after deputies found her roommate's body on the ground outside their house. She was held without bail Monday at the Osceola County Jail.
On Saturday, Ms. Zinnerman made a 911 call to the Osceola County Sheriff's Office, complaining that Snyder wasn't keeping the kitchen clean, said sheriff's spokesman Deputy Al DeArmas. A deputy responded to the call and left after determining the roommates' argument didn't involve a threat, DeArmas said.
On Sunday William B. Snyder, 35, had been shot five times, deputies said, and was shot inside the house and again as he lay on the ground outside.
Ms. Zinnerman moved into the house in December of 2003. Mr. Snyder moved there in January, 2004. The house is owned by a British couple who rent four rooms to people who share the common areas.
Mary Zinnerman, 81, of South Carolina, said that her granddaughter had previously threatened people over petty matters.
Yolinda refused to see a psychiatrist and was recently kicked out of an aunt's house after gun cleaning equipment was found there, the grandmother said.
---
Woman charged with battering man in St. Johns County
© 2004 St. Augustine Record
Saturday, February 14, 2004 — 19-year-old Heather Hopkins was arrested after a man reported she squeezed his groin, hit him on the head with a shaving cream can and made him bleed after biting his wrist, according to a report from the St. Johns County Sheriff's Office.
Deputies responded to a home on Woodlawn Lane about 9:30 PM Thursday. Ms. Hopkins reported to deputies the man pushed and choked her as she was trying to take a bath.
The man told deputies she was the one being violent. He said when she grabbed his groin, he pushed her away and tried to leave. When he did, the woman hit him on the head with the bottle of shaving cream and bit him on the wrist.
Because the woman had no marks on her body and the man did, deputies arrested Heather Hopkins, 19, from St. Augustine, on a charge of domestic battery. She was released from jail Friday morning on a $500 bond.
---
Bradenton woman charged with attempted murder
© 2004 Bradenton Herald
February 9, 2004 — A 45-year-old Bradenton woman, Paula Woods, was arrested on a charge of attempted murder Sunday after authorities say she stabbed her live-in boyfriend in the chest with a large knife during an argument.
Robert Rumph, 40, of the 3800 block of 11th Street East, was flown by helicopter to Bayfront Medical Center in St. Petersburg after being stabbed at about 12:45 AM. Sunday, according to a report from the Manatee County Sheriff's Office. The report said his condition was not known at the time, and calls to the hospital seeking information about his condition were not returned.
---
Largo woman arrested after fiancé stabbed to death
© 2004 Steven Thompson, Tampa Tribune
March 20, 2004, Largo — A 38-year-old woman was arrested Friday in the death of her 62-year-old fiance, a little more than a year after he was stabbed in the apartment they shared.
Antoinette Abidin was arrested on a charge of first- degree murder. She was being held without bail at the Pinellas County jail.
Abidin had told police that someone else killed Kenneth McElhiney during what she described as a sexual fantasy night at their apartment at 2750 E. Bay Drive, according to court documents released Friday. Investigators say they found evidence to the contrary.
According to the documents, investigators discovered another man and woman had been in the apartment the night of March 8, 2003, and the woman was there as a blind date for Abidin. The male guest told detectives that the two women "did not hit it off," the court records state.
The man also said he, the female guest and Abidin had been drinking beer, smoking marijuana and smoking cocaine that night. Before he left, he heard Abidin and McElhiney arguing about money for cocaine, he told investigators.
The guests did not have blood on their clothes when investigators found them, shortly after the killing was reported; Abidin had blood on her hands, the records state.
A knife with blood on it was found beneath a chair while investigators were executing a search warrant, which they had to obtain because Abidin refused to allow them in without one, the records state. No fingerprints were found on the knife.
After the party, in the early- morning hours of March 9, 2003, Abidin repeatedly called her Alcoholics Anonymous sponsor, but the sponsor told investigators Abidin was drunk and difficult to understand. The sponsor unplugged her telephone to get some sleep, but Abidin kept calling, the court records state.
One message left on the sponsor's answering machine, at 4:04 a.m., said: "This is not a joke. Get someone over here," the records state.
At 4:30 AM, Abidin called her mother and said McElhiney had been stabbed 20 times, the records state.
When asked why she took so long to contact authorities, Abidin said her phone broke after she made those calls, court records show.
Reporter Stephen Thompson can be reached at (727) 823-3303.
---
Inverness woman charged with arson after trying to set her ex-boyfriend's bed on fire
© 2004 St. Petersburg Times
March 24, 2004, Inverness — A 33-year-old Inverness woman was charged with arson of an occupied structure early Tuesday after she was accused of igniting a child's sock and tossing it under the bed of her live-in ex-boyfriend, who was asleep.
Johnnie Brown, 36, told a Citrus County sheriff's deputy that he woke up to the smell of smoke, found the sock partially on fire underneath his bed and quickly extinguished it, an arrest report said. He got out of bed and saw Talia Lynette Hill, 33, standing in the living room area with a knife in her hand.
She left, the report said, and he contacted authorities. Hill denied starting the fire, but admitted to having the knife in her hand for protection, the report said. All occupants were inside the residence asleep when Hill came home just before midnight. Hill remained at the Citrus County jail Tuesday evening with bail set at $2,500.
---
Miami woman's conviction for trying to poison boss overturned
May 20, 2004, Fort Lauderdale (AP) — A state appeals court says a Miami woman cannot be convicted of attempting to poison her boss simply because there is no such crime.
Femesha Foster used to work as a technician for optometrist Mark Caruso at the Pembroke Pines Wal-Mart. She was caught on a surveillance video tape putting the poison in her boss's can of Dr. Pepper in January 2000. Caruso decided the soda didn't taste right, and drove himself to the hospital, where he was treated for poisoning and released.
Foster was sentenced to 20 years in prison. It came out to 15 years for attempting to poison and five for grand theft, after she admitted to writing checks to herself from Caruso's account.
But the 4th District Court of Appeal in West Palm Beach has overturned Foster's conviction for attempted poisoning. The panel says that's a "nonexistent crime."
Prosecutors can retry Foster on the charge of poisoning.
---
Suicidal woman accidentally kills husband, injures son in Seminole
October 21, 2004 (AP) — A woman who intentionally killed herself by starting a car in a closed garage inadvertently killed her husband and critically injured her 16-year-old son when carbon monoxide gas seeped into the house, authorities said.
Pinellas County Sheriff's deputies found Kathleen Francis-Bevan, 51, dead in a Cadillac in the family's garage Wednesday morning.
Inside the house, they found the body of her husband Gary Bevan, 49, in a bedroom and their son, Brandon, lying unconscious in the hallway. He was at St. Joseph's Hospital in Tampa Thursday, but officials declined to release information about his condition.
The three were found at 8:39 AM Wednesday after Gary Bevan did not show up for his job as a manager at a Kash n' Karry in Palm Harbor, family said. Francis-Bevan was a department manager at a Target store in Largo Mall.
Sheriff's Lt. Mike Ring said all three were in their bedclothes. He said authorities believe Francis-Bevan started the Cadillac late Tuesday or early Wednesday. Investigators think she wanted to commit suicide but had no intention of hurting her family.
A suicide note left by Francis-Bevan was discovered. Its contents were not released.
"There were some problems between the husband and the wife," sheriff's spokesman Mac McMullen said.
---
Burt Reynolds suing ex-girlfriend for making false allegations of abuse
November 10 2004 — Burt Reynolds is suing his former girlfriend, alleging she threatened to falsely accuse him of abuse if he didn't pay her millions of dollars.
The lawsuit claims Pamela Seals lied when she said Reynolds shouted at her and stomped on her toes reports IMDb.com
Seals, who was with Reynolds for 10 years, told the actor she would publicize her allegations if he didn't agree to a hefty settlement that included support for Seals and her mother, half of Reynolds' Jupiter, Florida, home and other compensation, according to the suit.
Reynolds' lawyer, Bob Montgomery, has called Seals' alleged threats blackmail, saying the actor offered to settle the matter for 1 million dollars but Seals refused.
He adds that because Reynolds and Seals were never married, she is entitled to nothing under Florida law.
Montgomery said: "She wanted more and more and her demands were absolutely exorbitant."
The lawsuit asks for unspecified damages and for a court to stop Ms. Seals from suing Reynolds in California, where the couple lived temporarily.
In a statement, Reynolds, 68, called the situation "unfortunate" and said he won't be "intimidated by false accusations."
---
Florida v. Bowman: Mom kills biker boyfriend in Brevard County
© 2004 Court TV
Thursday, November 25, 2004 — Jody Lynn Bowman and her two daughters were living with her boyfriend George Jupin, a drug-dealing, pierced, tattooed biker who had a penchant for porn.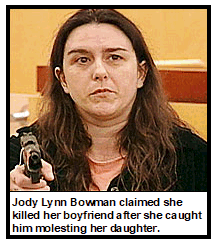 On January 20, 2003, Bowman shot and killed Jupin, 40, as he lay in their bed — but she claimed she had good reason: She caught him molesting her 3-year-old daughter.
But prosecutors charged that Bowman fabricated the story, and that she murdered him in cold blood, motivated by a fear he was going to leave her.
The 34-year-old Florida woman was tried for second-degree murder before a Brevard County jury in March 2004. She faced life in prison if convicted.
---
Nova Scotia woman who killed husband in Canada faces new charges in Pinellas Park
© 2005 by Jennifer Stewart, Herald Limited, Halifax, Nova Scotia, Canada
Wednesday, January 12, 2005 — A Dartmouth, Canada, woman convicted of manslaughter for killing her husband in 1991 is facing new charges in the United States.
Melissa Friedrich, convicted in Halifax, Nova Scotia, Canada, as Melissa Ann Stewart, was arrested at her home in Bradenton, Florida, by Pinellas Park police on Thursday on suspicion of exploiting the elderly.
The Florida investigation came to light when a reporter from the Bradenton Herald contacted the Herald Limited in Halifax, Nova Scotia, Canada. Since Pinellas Park police began their investigation, they have been contacted by Canadian journalists and a Massachusetts couple related to Ms. Friedrich's husband Robert Friedrich, who died in December 2002.
A news release from the police department states that Ms. Friedrich is being investigated for her involvement in "befriending elderly males, possibly through the use of the Internet, in order to obtain access to their various financial accounts." The release also says those contacts "have revealed information leading investigators to believe that Friedrich has exhibited a pattern of meeting elderly men, possibly through the Internet or other means, in an effort to perpetrate her crimes."
The release says Ms. Friedrich has an extensive record of fraudulent activities, dating to as early as 1970. Most recently, the 66-year-old woman is suspected of swindling Alexander Strategos, 73, of Pinellas Park out of more than $18,000.
According to their sources, Pinellas Park police say Ms. Friedrich may have been using controlled substances to drug her victims.
Woman used many aliases and has long list of convictions
Melissa Ann Stewart is only one of her identities — police say she has operated under as many as 15 aliases, often a combination of her various married and given names.
Whether Melissa Ann Friedrich intended to kill her newest male companion is uncertain but there's no doubt the 66-year-old did away with at least one of her past husbands.
It appears the woman lied to U.S. immigration officials in 1997 when she moved to Florida. She didn't mention her past convictions, which include not only manslaughter but a slew of other crimes ranging from fraud to operating under false pretenses to uttering death threats.
Most of these crimes were committed in Toronto but at least one forgery charge was laid in Georgetown, on Prince Edward Island, Canada. Her criminal record dates back to the early 1970s.
Early history
Court records from her 1992 trial in Halifax state Ms. Stewart, as she was known at the time of the trial, was born in 1938 to Melvin Harold Russell and Muriel Eleanor Kelly in New Brunswick, Canada. Her father drowned about 60 years ago and her mother died in 1975 from heart disease. The court documents say she has 13 half-brothers and sisters, none of whom she was in regular contact with at the time of her 1992 trial.
The documents go on to explain that her grandmother and a series of aunts and uncles cared for her until she was 15. She alleged one of her uncles sexually assaulted her and her grandmother physically abused her.
At age 15 she moved to Ontario, Canada, and completed high school through evening correspondence at Stafford College. She finished a total of eight university credits at York University in Toronto.
First marriage
During that time, she met and eventually married her first husband, Russell Shephard, an Ontario factory worker.
In 1956 the couple had their first child, Douglas Shephard, who now lives in Pictou County, Nova Scotia, and in 1958 they had a second child who lives in Lower Montague, Prince Edward Island, Canada, as Linda Sencebaugh.
The family moved to Montague on Prince Edward Island in 1971 and Mr. Shephard was diagnosed with cancer a short time later.
In Montague Mrs. Stewart worked as a real estate agent with Home Life Realty and met her second husband, Gordon Stewart.
She also worked as the dining room manager at Brudenell Resort on Prince Edward Island, and as office manager at a Montague optometrist's office.
Second marriage and first murder
After almost 30 years of marriage she left Mr. Shephard, who was still battling cancer, and entered into a two-year common-law relationship with Gordon Stewart. They married in April 1991.
In a 1992 interview, Mr. Shephard said he enjoyed a good relationship with his wife before she left him for her lover. They divorced in May 1991, he said.
Mr. Shephard said his wife "had problems" due to her frequent negative involvement with the law but otherwise was a "gentle person who was never violent."
Ms. Friedrich, then known as Melissa Ann Stewart, 53, was arrested in Nova Scotia and charged with second-degree murder in April 1991 when her husband Gordon Stewart, 44, was found dead at Goffs, near Halifax International Airport.
The one-time Dartmouth resident, was convicted of manslaughter in Nova Scotia Supreme Court in May 1992 for drugging her husband, Gordon Russell Stewart, 44, and running over him with her car.
Ms. Stewart, as she was then known, testified that her husband had raped her at knife point but Nova Scotia (Canada) Supreme Court heard that she pumped him full of tranquilizers and ran him over with her car.
In the short time the Stewarts were together, she accused Mr. Stewart of being an alcoholic and verbally and physically abusive with her and sometimes with her daughter. For this reason, she suggested they move alone to Dartmouth.
The Stewarts had been living at 4 Franklyn Court, Apt. 231, in Halifax, Nova Scotia, for less than a month when Mr. Stewart met his untimely death.
Ms. Stewart alleged that her husband dragged her from their apartment at knife point on April 27, 1991, and raped her in the woods near a dirt road in Goffs, near Halifax International Airport.
She said she must have accidentally backed over her husband with the blue 1984 Chevrolet Cavalier in her frenzy to escape. She said she made her break when he left her alone to urinate behind the car.
But Crown attorney Susan Potts presented witnesses who testified they saw Ms. Stewart back over a body that was lying face down across the road.
Elizabeth Casey and James Coakley, both of Fairview, said they were in the area collecting beer bottles when they saw the car with Prince Edward Island plates roll over the body, then take off at high speed.
They followed the car for a few kilometers until they got close enough to copy the licence plate number. The car was registered to Melissa Stewart.
Ms. Stewart's rape examination turned up no evidence of sexual contact, and a police dog team caught no scent of either her or her husband in the woods.
And then there's the matter of the tranquilizers.
Mr. Stewart was so drugged up at the time of his death that the medical examiner testified he was probably unconscious or in a coma-like state when the car rolled over him. Mr. Stewart had three types of tranquilizers in his blood.
The cause of death was found to be multiple chest and neck injuries due to blunt trauma, although no tire tracks were found on the body.
Ms. Stewart was originally charged with second-degree murder but a jury found her guilty of manslaughter on May 27, 1992. She was sentenced to six years in prison but served only two.
Third marriage and he dies as well
Upon her release, she moved to Bradenton, Florida, absent-mindedly neglecting to tell U.S. immigration authorities about her past convictions.
She married Robert Friedrich in October 2001 in Bradenton and they purchased a house together.
Robert Friedrich died in December 2002 at age 84. In the 14 months he was married to Ms. Friedrich, his health rapidly deteriorated. His family has said his will was changed to exclude his three sons and make Ms. Friedrich the sole beneficiary of his $100,000 estate and the house the couple had purchased.
After he died, she conveniently had his body cremated.
Mr. Friedrich was survived by three sons. One of them, Dennis Friedrich, who lives in Massachusetts, contacted Pinellas Park police after he read an article in the Herald Limited about Ms. Friedrich's manslaughter conviction. Apparently he had concerns that Ms. Friedrich may have taken advantage of his father's finances and eventually murdered him.
Mr. Friedrich's death was never investigated because of his age and poor medical condition. Bradenton police don't plan to pursue charges in his death.
Out hustling again and foul play suspected
Ms. Friedrich was arrested January 6, 2005, in Pinellas Park, Florida, on suspicion of exploiting the elderly after she allegedly drugged her boyfriend, Alexander Strategos, 73, and siphoned thousands of dollars from his bank account.
Ms. Friedrich met Mr. Strategos through an online dating service called AmericanSingles.com. She moved into his Florida condominium the first time they met face to face.
That evening Mr. Strategos was taken to hospital after he fell and hit his head — the first in a series of unfortunate accidents that alarmed his family.
Police are now trying to determine if they are looking at an attempted murder case.
---
Woman faces perjury charges in Orlando after two men jailed in bogus attacks
© 2005 by Tony Pipitone, WKMG-Local 6 News
Reproduced under the Fair Use exception of 17 USC § 107 for noncommercial, nonprofit, and educational use.
February 3-11, 2005 — At 5-foot-9, 140 pounds, 25-year-old Beate Faanes cut a stunning figure as a University of Central Florida golfer, and she quickly caught the eye of fellow golfer Trason Brooks.

"Tall girl, blonde hair, blue eyes, pretty girl," Brooks recalled of his first impression of the Norwegian-born clinical social worker.
They would date off and on over 18 months, but after their last break-up things turned downright bizarre.
The first sign of trouble came August 8, 2004, when Brooks was arrested while working at the Stoneybrook East golf club and charged with attempted first-degree murder and aggravated stalking.
"Absolutely unbelievable," he thought, having no idea at the time from where the charges came. He soon learned Faanes told police he attacked her three times in recent weeks — and evidence photos clearly showed the bruises she claimed he left behind on her face, thigh, and neck.
But there were problems with Faanes' story: Brooks had solid alibis for two of the attacks, and he claimed he had not even seen Faanes for more than two months.
He told Orange County investigators as much, but "they didn't care. They relied on her word 100 percent," he said. The sheriff's office attitude, he said: "You beat this girl, she has the marks, she has no witnesses, but you're guilty."
The sheriff's office says it had no choice but to arrest Brooks, since Faanes identified him and had the injuries to back it up.
There was evidence Faanes was a troubled young woman
Sheriff's office records show she attempted suicide in January 2004 over a break-up with another boyfriend. And, investigative records state, she admitted lying to Brooks about having aborted his baby in an attempt to gain his love — in fact, she was never pregnant.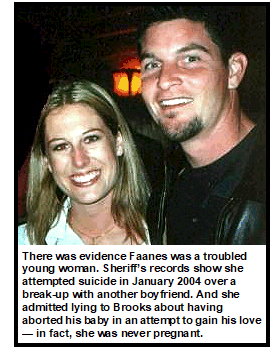 But Detective Brian Cross, the lead sheriff's detective, said those incidents did not destroy her credibility. At the time, based on the evidence at hand, he said the most likely apparent danger would be to not arrest Brooks and risk having Faanes later turn up dead.
So Brooks, a 28-year-old golf instructor and aspiring real estate salesman, went to jail with no bond.
"It was the most humiliating thing ever," he said. "First of all, I've never been in a jail, not even a tour of a jail." When he saw the words "MAX 1" stamped on his jail paperwork, "I think in my mind that means I'm only going to be in jail max one day."
Actually, it means he's housed among the worst of the worst prisoners in the Orange County jail.
"One guy had murdered his ex-girlfriend the night before and turned himself in and I'm thinking where in the world am I?" Brooks recalled. "A week goes by, three weeks go by, a month, two months and then I'm thinking, you got to be kidding me. Am I ever getting out of this jail?"
Then he heard of "the best attorney in town," Harrison "Butch" Slaughter, who led a team of lawyers and investigators to uncover the truth. Slaughter persuaded a judge to set bail, but by then Brooks had spent 93 days in jail and the first of what's now a $30,000 legal bill.
He said if his family did not have access to a competent, highly paid law firm, he might still be in jail or prison, because the sheriff's office accepted Faanes' allegations at face value.
"Detectives did nothing. They took her word and believed it and rolled with it," said Brooks, adding, "If it was up to them, I would still be sitting in the Orange County jail."
Sitting there, it turns out, with good friend Chris Brussow, who supplied one of Brooks' earlier alibis.
"My friend didn't do it and I went before a judge to make a statement," said the 28-year-old Brussow, noting he was with Brooks on a night when Faanes pinned an attack on Brooks.
Faanes watched that alibi testimony in an August 18, 2004, court hearing.
In October, 2004, with Brooks still stuck in jail, she came forward with a new allegation: that Brussow came to her apartment and attacked her, punching her face and cutting her side.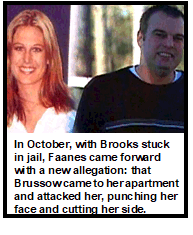 There were new bruises and a cut, so this time it was Brussow being carted off to jail.
"No matter what I said to anybody, they laughed at me," he recalled. "'Sure you're innocent. Sure you didn't do it."
After four days, Brussow got a bond, but freedom was fleeting.
On Christmas Day, Faanes told police Brussow again attacked her, this time with a knife, almost slitting her neck.
Orlando police stormed Brussow's condo within hours with a warrant for attempted murder.
"Guns drawn, 'get face down, face down,' probably seven officers at least one dog. We're all on the ground in handcuffs. It's very disheartening to look up see my mom in handcuffs," he said. "All I could think about is this girl who's done this to me. I'm obviously terrified because now I'm going back to jail again."
By then, though, Faanes' tales would begin to wear thin.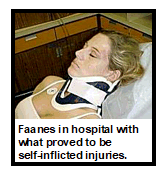 While out on bond on house arrest, Brussow was attached to an ankle bracelet that tracked his every move. And it proved he was home on Christmas when Faanes claimed he attacked her miles away.
And Brooks' lawyers produced a dozen alibi witnesses and dental records proving he was in Jackson County when Faanes claimed he last attacked her in Orange County, 300 miles away.
Finally, a prosecutor asked Orlando police to seek the truth Brooks and Brussow had been claiming all along.
Orlando police presented Faanes with the men's ironclad alibis during an interrogation on December 28, and she cracked in a tearful confession, admitting she inflicted all the injuries on herself, according to court records.
"Everything is fabricated," said Brooks. "Everything's a lie."
Little consolation now, said Brussow. "In my opinion they should've maybe looked into it before they came into my house with guns drawn. I guess that's not the way they do things."
Asked why that is, Brussow replied, "I think it's very unfair. Here are two people's lives and families ruined by a girl (who) lied, all because maybe she was a pretty face."
Talking to police, Faanes blamed her actions on alcohol and anxiety drugs, but Trason Brooks suspects another cause: "She wanted me in prison the rest of my life...In her mind we're getting married, we're having kids, we're going to be happily ever after. I made it clear to her that's not what my intentions were."
As she was booked January 21, 2005, on charges of perjury and filing false reports, we asked Faanes, "Anything you want to say to Trason about this? Are you sorry?" but she wouldn't comment.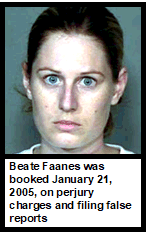 Days earlier she told us she really was attacked, but was coerced by police to confess when they threatened her father. Police say that's another lie.
"She needs some kind of mental counseling or some kind of help," said Brussow. "She'll cause bodily harm to herself, she'll injure herself and in the process of doing that attempt to ruin other people's lives."
Faanes has received some mental health care, at Lakeside Alternatives, after her suicide attempt in January 2004 and again after she confessed in December, 2004, to injuring herself, according to police records.
After graduating UCF, Faanes became a licensed clinical social worker and worked at the very same Lakeside Alternatives as a therapist until she resigned January 28, 2005, one week after her arrest.
As for Brooks and Brussow, they say the ordeal has cost them their good names, their jobs, and much of their life, plus tens of thousands in legal fees.
Both are consulting lawyers about possibly suing Faanes and law enforcement agencies for not diligently checking out her claims before arresting them.
But for now they're just glad they're not in jail or prison.
Tony Pipitone can be reached at (407) 521-1291 or at tpipitone@local6.com.
---
Cognizant Jacksonville man in life and death tug-of-war with his wife
Abstracted from article in The Empire Journal
© 2005 American Free Media, LLC
May 2005 —Scott Thomas smiles, cries, and responds to commands. He forms words with his mouth and sang Happy Birthday to his mother. His eyes track family members as they move about his room where he's a patient at Brooks Rehabilitation in Jacksonville. He is not terminal.
He is scheduled to be released from the rehab in May, 2005, and go home but his wife is petitioning the court to move him to a hospice and remove all means of life support.
Scott, 34, suffered severe head injuries and brain damage in a highly suspicious incident at his Jacksonville home in early September, 2004, when his wife, Eliza, 29, a Polish immigrant, says that he fell down in the kitchen striking his head. No one else was home at the time of Scott's fall. Although his wife maintains that she was in another room at the time of the fall, she also relates the accident happened when he fell backwards after tripping over a dog.
According to his mother, Scott has indicated that his wife struck him in the head, causing his injuries and that she did it on purpose.
According to Scott's mother, Eliza had entered the United States illegally. Scott was dating Eliza at the time of 9/11 and told him that they had to get married or she would be deported. But two years after they were married, Scott starting getting mysteriously ill with stomach problems and about every three months was hospitalized. His mother, Pamela Patton of Jacksonville says that although doctors did numerous tests, they could not diagnose the cause of her son's sickness. She said the doctors told her that no toxicology tests had been done.
His mother says that she told Eliza that they had to call in other doctors to find out what was wrong with Scott, to do a toxin test but that his wife had replied, "I really don't care. I have other things going on".
In early September of 2004 Scott was recovering at home from yet another bout in the hospital when he allegedly fell from a standing position in their open kitchen. "There was nothing for him to strike his head on," his mother says. She says that the blow to her son's head was so severe it knocked his brain to one side. The doctors say that his injuries are not consistent with such a fall and believe the severe head trauma was caused by a blow to the head.
No police report has been filed. Although doctors initially suspected foul play, after speaking with Eliza and her telling them that he had tripped over his dog and fallen, the hospital did not report the incident to police.
His mother says that although her son has spoken only three words since September, that he does communicate using hand signals and with his eyebrows and that he forms words with his mouth. She relates one instance when her son, who she says is somewhat claustrophobic, was to be placed in a hyperbaric chamber, he looked at her and twice said, "Mom, I want out."
Doctors have tested Scott, receiving correct responses about where he lives, where he went to school and other information. They have devised trick questions and phrased the questions to rule out that his responses are not simply involuntary responses.
Three days after the incident, while her son was in the Intensive Care Unit, his mother went to his home to see her 11-month-old grandson. She says all of her son's pictures had been removed and Scott's wife was very cold to her and she left without seeing her grandson.
Thereafter, Eliza Thomas notified the hospital staff that they were not allowed to give Scott's mother or any of his family members any information regarding his medical condition. His mother says that when she told her daughter-in-law that Scott had an attorney to help with his affairs, Eliza snottily replied, "I get everything anyway."
The couple owns a house and several vehicles. His mother said they hope to be able to hire an investigator to determine, among other things, if there are any insurance policies on her son and who the beneficiary is.
---
Billy Graham's daughter arrested in New Smyrna Beach for domestic violence
Abstracted in part from stories by WRAL.com and The Smoking Gun
Pastor's eldest, 59, in Florida domestic violence bust
July 6, 2005 — The daughter of evangelist Billy Graham faces domestic violence charges after she reportedly tried to choke her husband outside of a Florida Kmart.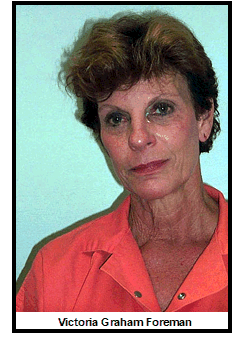 Virginia Graham Foreman, 59, spent a night in jail after New Smyrna Beach police said she physically abused her husband, Chad, on July 1.
According to a charging affidavit, Mrs. Foreman, a public speaker who has authored several Christian-oriented books, got into a beef with her husband Chad as he piloted a Mustang along State Road 44 in New Smyrna Beach. After Foreman abruptly placed the car in neutral, her husband "exited the vehicle to avoid an altercation."
According to witnesses, with the car now parked in the road with the driver's door open, Foreman followed her departing husband and "grabbed the victim by the neck in a choking manner."
Witness David Hill of Edgewater told police that Virginia Foreman choked and pushed her husband. "She was mean," Hill told the Orlando Sentinel. "I guess she started pushing him and grabbed him around his throat."
Foreman then got into the car and drove to the parking lot of an adjacent K-Mart, where her husband was hiding behind a truck, according to witnesses. When police asked Chad Foreman, 53, about his wife grabbing him around the neck, he replied that "she was upset and did not mean any harm by it." Chad said that Virginia was upset about an incident from earlier that evening, adding that "she did not need to be arrested."
Police disagreed, and charged Mrs. Foreman with misdemeanor domestic violence and booked her into the Volusia County Jail, where the mug shot above was snapped. Describing her bust as a "false arrest," Mrs. Foreman said that her hands were on her husband's shoulders, not around his throat. "If you knew my husband, you'd know that nobody puts their hands around his neck," she said.
Volusia County Judge Mary Jane Henderson presided over Mrs. Foreman's first appearance hearing. She was charged with misdemeanor domestic abuse and released on her own recognizance.
---
Winnipeg, Canada, woman gets 22 years for murder plot of husband in Panama City
August 2, 2005 — A Winnipeg woman has been sentenced to almost 22 years in jail by a U.S. judge for conspiring to kill her husband, a Canadian air force officer stationed in Florida.
The 21-year, eight-month sentence was the maximum possible.
In 1996, Major David Turenne, 42, was found bludgeoned to death in his front yard in Panama City, Florida. He was in the U.S. working as a computer expert at Tyndall Air Force Base.
Ralph Crompton, 50, a U.S. Air Force master sergeant, was convicted of murder nine years ago and is serving a life sentence. He was involved with Monique Turenne at the time and later implicated her in a plot to kill her husband.
A jury found her guilty of second-degree murder in June, 2005. Prosecutors argued Mrs. Turenne stood to benefit from her husband's $600,000 US life insurance policy.
She fought her extradition to the U.S. for seven years but turned herself in last December after the Supreme Court of Canada declined to hear her case.
---
Stories —2006-2010
The other face of domestic violence in Sarasota
© 2006 by Ted Rowlands, CNN
April 6, 2006 (CNN) — When I met Leo, Paul and Tom at a domestic violence shelter here, it was hard to believe the three men's story: that they were victims of physical abuse at the hands of their female partners.
Leo, who is about 6 feet tall and said he weighed more than 200 pounds at the time of the abuse, said his girlfriend terrorized him while he was recovering from a heart transplant.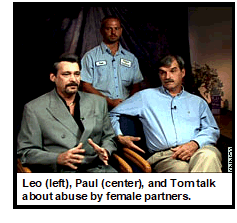 "She would throw things, she would absolutely throw things, one time she did grab my throat and was screaming in my face," he said.
Another time, Leo said, she pulled a knife on him, but he suspected she was just trying to scare him.
Tom said his ex-wife would fly off the handle without notice. He said he had to lie when co-workers noticed scratches on his body, saying:
"...my hands were so clawed by her, at work a day later I would be writing something down, and someone would say 'Oh, you must have a mean cat,' I'd say 'Yeah, a mean cat.' What am I supposed to say?"
Tom's wife was arrested and pled guilty to assault.
Tom said while sitting in a courtroom during his divorce, he realized he was a victim of abuse.
"I looked up, and I see a poster saying 'Are you a victim of domestic violence?' And I start reading the questions, and tears started coming down. I said, 'damn.'"
Paul, who works for a cement company, said his wife would attack him when he got home from work.
"She'd come running at me like a wild animal, both hands and arms swinging, I think she had her eyes closed half the time," he said.
According to a police report, Paul attacked his wife and threatened to kill her, but he said that is a lie.
"She came running up to me with a knife, and I end up doing six months over it," he said.
CNN's efforts to contact Paul's ex-wife were unsuccessful.
All three men said they were reluctant to call police. Leo said he thinks in the case of a dispute, an officer would believe a woman's story over a man's.
"Whether it happened or not, if she signs that affidavit, you're on your way to jail, you're on your way to jail, no investigation no anything."
All three men have left the women they say abused them.
Mary Thoroman, a detective with the North Point, Florida, Police Department, said she is seeing more male victims of domestic violence than ever before. "Typically it's the throwing of objects, a lot of scratching, a lot of face scratching, neck scratching, even chest, but objects being thrown is very, very common," she said.
After meeting the three men, I interviewed Darlene Hilker, a woman who admits to assaulting her husband. Hilker said she was arrested after an argument spun out of control, and "I grabbed my husband's genitals, that's what I was arrested for."
Hilker was sentenced to 16 weeks of counseling at the Domestic Abuse Shelter Homes in Englewood, Florida.
The executive director at DASH, Donna LeClerc, said her group is dealing with more and more cases of women abusing their mates, though Department of Justice statistics show spousal abuse arrests nationwide have dropped significantly during the past decade.
"Men have gotten the point that it's not OK to do those things, but somehow it's turned around, and it's OK for women to do those things," LeClerc said.
Hilker said her anger would build and build until she couldn't control it. She also said other woman are feeling the same frustration, and are resorting to violence.
"There's a lot of women with a lot of anger, and they are letting it go," Hilker said. "It's not just husbands beating up wives; women can fly off, too."
---
Wife convicted of plotting plumber's murder for life insurance payout, faces death penalty in Daytona Beach
© 2007 by Bo Rosser, Court TV
January 26, 2007 — Jurors have convicted a Florida woman of conspiring to murder her plumber husband so she could collect $500,000 in life insurance.
After deliberating for about 20 hours over two days, the panel found Karen Tobie, 41, guilty of first-degree murder and conspiracy to commit murder in the June 30, 2004, death of her husband, John Cataneo.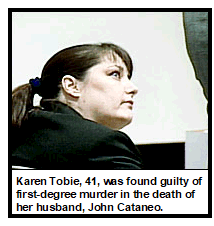 Tobie now faces a possible death sentence. The penalty phase of her trial is scheduled to begin Tuesday.
When the verdict was read, Tobie held her hand to her mouth, but showed little emotion. After the proceedings, her father Hal Tobie spoke to reporters.
The jury also convicted the hit man — plumber's assistant Tysjohaun Cooper — of manslaughter and conspiracy to commit murder. He faces a maximum sentence of life in prison without parole.
The 26-year-old appeared much more devastated by the outcome. He dropped his head to the desk and hid his face in his hands when the verdict was read. Cooper's father cried in the gallery, surrounded by other family members.
During the week-long trial, Mr. Cooper testified that he was working two jobs to earn enough money to enroll in truck-driving school. He wanted to follow in his father's footsteps and become a truck driver, he testified.
"We believe [Cooper] did not get a fair trial because he was denied his right to be tried separately," defense attorney Tom Mott said.
Assistant state attorney Ed Davis said he would not comment on the case until after the penalty phase.
Prosecutors built their case around the testimony of a confessed co-conspirator. Lynn Blake, who looked after Ms. Tobie and Cataneo's young son, told police that she and the two defendants plotted to murder John Cataneo to keep him from relocating with the couple's son.
Ms. Blake told jurors that Tobie paid Mr. Cooper $2,700 for the gun in a mall parking lot. After, Blake and Tobie tested the weapon, but it did not fire properly. Eventually, Tobie offered to pay Cooper thousands out of her expected insurance settlement if he would pull the trigger himself. The murder plot was hatched out of fear that the plumber was planning to divorce Tobie and move closer to his extended family, according to testimony.
After meeting with police, Ms. Blake hid a recording device in her bra in an effort to further incriminate Tobie. In the recording, Tobie is overheard telling Blake to "just play dumb," and warning that "this will be our downfall."
Lynn Blake, 58, agreed to plead guilty to second-degree murder and faces a maximum sentence of life in prison.
Both defense teams rejected Ms. Blake's account and condemned her as the real murderer.
In addition, Tobie's defense attorney, Michael Nielsen, told jurors she was simply too much of an alcoholic to have masterminded the murder. According to the defendant's mother, Karen Tobie would drink from morning till night every day. "She was a raging drunk," defense attorney Michael Nielsen said Wednesday. "[She] was not mentally capable to form the intent to kill." [EJF note: Now that is a unique defense!]
---
Seminole County woman charged with murder of her husband after trying to frame her son
June 13, 2007 (AP) — A Central Florida woman told her 19-year-old son that she loved him and would stand by him after he was arrested for killing her husband. But now authorities think she is the real killer and framed her son for the crime.
Rhonda Marie Sands' husband, Everette Lema, 50, was found stabbed to death on May 2, 2007, in Sanford.
Prosecutors have dropped a murder charge against Sands' son, DeShane Sands. He was arrested the day after the killing, based largely on reports from his mother. While in custody, authorities recorded a phone call between the mother and son, according to court records. "I love you, Shane, and I'm gonna be here for you," Rhonda Sands said during the call.
But two neighbors told authorities that Rhonda Sands confessed to killing her husband to them, according to court records. And while DeShane Sands initially refused to talk to authorities, on June 1 st he told them he was innocent and suspected his mother was the killer. DeShane Sands also had an alibi. His girlfriend said he was at her house the night of the slaying, according to court records.
A Sheriff's Office spokesman would not answer questions about the case Tuesday, saying it was still under investigation. On Monday, a judge ordered DeShane Sands released, but he remained in the Seminole County Jail Tuesday evening. He was awaiting transfer to the Orange County Jail, where he was charged of violating the terms of probation in an unrelated case. Rhonda Sands, 43, was being held without bond Tuesday night in the Seminole County Jail on a first-degree murder charge.
---
Former NFL cheerleader and reality show 'The Bachelor' contestant arrested in Seminole
Abstracted from AP and story on WBCSTV.com
November 24, 2007 — Mary Delgado, 40, a former NFL cheerleader for the Tampa Bay Buccaneers and contestant on the reality TV show The Bachelor, was arrested for attacking her fiance Byron Velvick. The couple got into an argument, and Ms. Delgado became violent, striking Velvick in the chest and face, splitting his lip. Though Velvick reportedly did not want to press charges, Seminole police arrived and arrested Ms. Delgado. Seminole is about 10 miles northwest of St. Petersburg.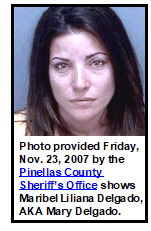 Mary Delgado was taken into custody just after midnight November 21, 2007, on a battery charge involving domestic violence and was under the influence of alcohol when she was arrested according to a police affidavit.
Ms. Delgado received a proposal on the show in 2004 from professional bass fisherman Byron Velvick. The police affidavit says the pair have lived together "as a family" for the last three years. The two appeared together November 20, 2007, the day before she was arrested for DV, in a special episode of The Bachelor called "After the Final Rose."
---
Detention officer at Miami-Dade County Corrections charged with domestic violence
50-year-old Captain placed on administrative leave
December 6, 2007 — Ms. Adkins is a supervisor with Miami-Dade County Corrections at the Women's Detention Center is on administrative leave after she was arrested for domestic violence, police said.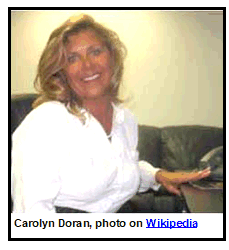 Capt. Clora Adkins was charged Thursday with false imprisonment, domestic violence, tampering with a witness and aggravated batter.
Capt. Adkins, 50, has been employed by the corrections department since 1984.
No further details about the arrest were available.
---
Wife beats husband with a baseball bat in Tampa
December 12, 2007 — A Tampa woman is being accused of chasing her husband down a hallway and beating him with a baseball bat according to a report from Tampa Police.
34-year-old Denise Washam told police she hit her husband of 17 years in self-defense.
She was arrested and has been charged with aggravated battery with a deadly weapon and causing great bodily harm.
---
Wikipedia Chief Operating Officer was convicted felon who had shot her boyfriend and caused a fatality in hit-and-run accident
Abstracted from story by Cade Metz in San Francisco, The Register
December 13, 2007 — For more than six months, beginning in January 2007, Wikipedia's million-dollar checkbook was balanced(?) by a convicted felon.
When Carolyn Bothwell Doran was hired as the Chief Operating Officer (COO) of the Florida-based Wikimedia Foundation, Wikipedia's parent company, she had a criminal record in three other states — Virginia, Maryland, and Texas — and she was still on parole for a DUI (driving under the influence of alcohol) hit and run that resulted in a fatality in Virginia.
Her record also included convictions for passing bad checks, theft, petty larceny, additional DUIs, and wounding her boyfriend with a gun shot to the chest.
Chief Operating Officer
Before Ms. Doran was hired as COO, she worked for the Foundation through a temp agency, serving for "a few months" as a part-time accountant or bookkeeper. When she moved into the COO post, according to the Wikimedia Foundation website, her fiscal duties included ensuring effective audit trails, approving expenditures, providing proper fiscal record-keeping and reporting, and submitting monthly financial statements to the board of directors.
Four months after Doran's hiring, on May 20, 2007, she was arrested by the Treasure Island, Florida police for driving while under the influence and driving while her license was suspended or revoked. This was at least her fourth DUI in ten years, which is a third degree felony in Florida. She paid a $5,250 bond and was released that same day.
Fifteen days later, she flew to Amsterdam for a Wikimedia Foundation board meeting, and when she returned to the United States she was stopped by customs and immigration. The officer who spoke to her, Joe Smagowicz, declined to provide us with any details on the interview.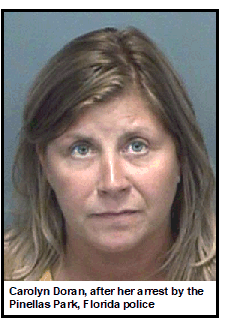 On July 4, 2007, — an American holiday nearly a month after the return flight from Amsterdam — the Wikimedia Foundation passed a private resolution concerning Carolyn Doran, and she was soon removed from the official Foundation staff list. A month later, she was arrested and jailed by the Pinellas Park, Florida police after a warrant was issued by the sheriff in Loudoun County, Virginia.
"There was a warrant put out for her arrest for violating her probation, and extradition was nationwide," says Captain Sanfield Forseth, of the Pinellas Park police department.
According to Jo Ellen Rackleff, a spokeswoman for the Florida Department of Correction's office of public affairs, the warrant was issued at least in part because Doran had violated her parole with her flight to Amsterdam.
Doran left the charitable Foundation in July 2007, after another DUI arrest and a violation of her probation. The Wikimedia Foundation did not officially announce Doran's departure, even among the close-knit Wikipedia community. In September, when chairman of the board Florence Devouard was publicly asked why Doran had left her post, she suggested that the decision was Doran's, and in an interview with The Register, the Foundation's lawyer, Mike Godwin, was adamant that Doran resigned her post.
Godwin also said that he and the Foundation was still unaware of Doran's criminal record: "We've never had any documentation of any criminal record on Carolyn Doran's part at all," he told us. "As far as I'm concerned, I have no direct knowledge of [her criminal record] yet...We have, in our records, no evidence of any such thing."
Chairman Florence Devouard provided the only answer: "Has it ever occurred to you that Carolyn herself may have preferred so?" Devouard wrote. "If the issue disturbs you so much, I have a suggestion. Just give Carolyn a call...she is still living in Florida. You may try to find her contact on internet, or white pages? I think that when you want to know something, the best you can do is to ask directly the person. No?"
Devouard's suggestion was not a good one. At the time this note was posted, Carolyn Bothwell Doran was locked in the Pinellas County, Florida jail.
Carolyn Bothwell Doran's criminal record
In addition to the Florida felony charges of driving under the influence while her license was suspended or revoked, Ms. Doran has stacked up a considerable rap sheet for crimes large and small in three other states.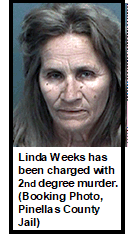 In the summer of 2005, Doran went to prison for a 2004 DUI hit and run with a fatality in Virginia, and when she was released in January of 2006, she was put on probation. This November, after her arrest by the Pinellas Park police, she was extradited to Virginia, and she is currently in the Middle River Regional Jail in Staunton, Virginia.
Her Virginia criminal record also includes convictions for passing bad checks, petty larceny, and shooting her boyfriend of eight years in the chest. Doran, then known as Carolyn Bothwell, age 27, pled guilty to the August 25, 1989, shooting incident in February 1990, and this was reported in The Washington Post.
Her Texas criminal record includes yet another DUI conviction.
In Maryland, she was convicted for stealing more than $300.
What happened to the Wikimedia audit?
The Wikimedia Foundation's fiscal year ended on June 30 th , and according to a post on the Foundation web site, an audit was originally scheduled for release "by the end of September." "The planning work for the audit is set to begin by mid-August, with a view to complete the work by end of September," reads a statement posted in July. "We hope to have the final audited financial statements and report for you by this time."
But in November, Devouard said that the audit "is expected to be finished by the end of the calendar year (hopefully)." According to a previous audit, the foundation's total assets topped one million dollars in 2006.
The Wikimedia Foundation relies on public contributions and grants to fund its operations, and all contributions qualify as charitable deductions.
---
Palm Harbor woman arrested in 2007 murder of husband
May 13, 2008 — Homicide detectives arrested 60-year-old Linda Weeks of Indiana Avenue in Palm Harbor in Pinellas County and charged her with 2 nd degree murder.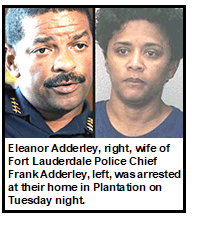 Detectives say Weeks stabbed her husband, 61-year-old Martin Weeks 28 times at his home in the Silk Oak Mobile Home Park in Clearwater in June 2007.
Linda Weeks was arrested at her home in Palm Harbor on Monday afternoon after an investigation revealed that she killed her husband after she found out he had an affair with a 30-year-old woman.
When Ms. Weeks was arrested she denied any involvement in her estranged husband's death. She is being held without bond at the Pinellas County Jail.
---
Wife fires gun at Fort Lauderdale police chief while he lies in bed
Abstracted from stories in MIami Herald and Orlando Sentinel
Despite the shooting, Fort Lauderdale Chief Frank Adderley urged leniency for his wife, who is now free on bond.
July 10, 2008 — The wife of Fort Lauderdale's Police Chief, Frank Adderley, roused him from bed with a gunshot and then chased him from their Plantation house to a neighbor's, squeezing off more rounds as he ran away, authorities said.
The first bullet missed the chief by inches, police said. He was not injured.
Mrs. Adderley told police she was only trying to "scare" her husband when she fired at him three times, once in the bed and twice as he ran for cover. She was charged with aggravated assault with a deadly weapon and firing into a dwelling, both felonies.
Hours after the Tuesday night attack the chief begged a Broward Circuit Judge Geoffrey Cohen to grant leniency to the shooter — his wife. Chief Adderley also promised to pay the $25,000 bail to get his wife, Eleanor Leisa Adderley, 45, out of jail. Mrs. Adderly did not speak during the five-minute hearing but looked disheveled. She was ordered to undergo a psychological exam and wear an ankle bracelet and was released on bond Wednesday night.
Until the facts get sorted out and the charges resolved, Cohen ruled the two are not to have any contact or be within a mile of each other.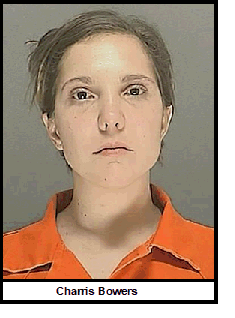 Chief Adderley agreed to move out of their Plantation house so she could live there without breaking the judge's order to stay a mile away from him. Their teenage son, who was apparently at home during the altercation, will live with relatives.
At a rare late-afternoon bond hearing Wednesday, attorneys presented a letter from Frank Adderley stating he did not want his wife to be punished.
"Chief Adderley is very supportive of his wife, and they are going to counseling and going to proceed to mend their family," said Robert Buschel, Eleanor Adderley's attorney. "Considering the circumstances, she is holding up well. She's concerned about her family and her husband."
Prosecutors often have trouble pursuing domestic violence cases because the victims refuse to cooperate in any effort to jail a loved one.
According to the arrest report and other police accounts, here's what happened:
Frank Adderley was in bed some time after 10 PM Tuesday when his wife aimed a Beretta 9mm in his direction and squeezed off a shot that missed him by inches.
As he dashed out of the house through the rear porch, she fired a second time — and missed again. At least one more round was fired outside the home. Frank Adderley ran to a neighbor, who persuaded Eleanor Adderley to put down the gun.
After police arrived, Adderley admitted to opening fire but said she was "only trying to scare him...and did not intend to cause any injury."
It wasn't clear if Mrs. Adderly used the chief's own service weapon in the assault.
The police report does not say what they were arguing about.
Chief Adderley replaced Bruce G. Roberts in May 2008 as Fort Lauderdale police chief.
---
East Fort Myers woman kills husband, mother, and dog
Double-murder suicide shocks East Fort Myers neighborhood
August 3, 2008 —The bodies of a married couple and a live-in elderly parent were discovered in a Fort Myers home Friday morning in what Lee County Sheriff's investigators are calling a double murder-suicide.
Investigators identified the married couple as Michael and Denyse Lawrence, ages 59 and 54, respectively, of 4331 River Grove Lane. The other victim is Denyse Lawrence's mother, 79-year-old Lorraine Frye, who had been living with her daughter and son-in-law for several months, according to Sgt. Larry King, a spokesman for the Lee County Sheriff's Office.
The family's Jack Russell Terrier was also found dead in the home.
Lee County Sheriff's deputies say it appears Denise Lawrence was responsible for the double murder-suicide in the Buckingham area of Lee County on Friday morning.
An autopsy performed on Saturday shows Michael Lawrence, Denise's mother Lorraine Frye, and Denise Lawrence herself were all killed by single gunshot wounds. The evidence collected suggests Denise Lawrence was responsible for the shooting.
An "instructional" note was found amongst the bodies with instructions on "what to do afterwards."
Deputies found the bodies after receiving a call from the Lawrence's grown daughter, who was concerned that she hadn't reached her parents by phone since Wednesday. After ringing and knocking at the home's door to no response, deputies found an open rear door and entered.
They found Frye, "fatally wounded" in one bedroom, and the bodies of the Lawrences, as well as the dog, in the master bedroom.
The couple owned Lawrence Painting, a contract painting business in Miami, according to state business records.
---
Bradenton woman stabs elderly husband in neck with steak knives
October 8, 2008 — A Manatee County woman has been arrested for stabbing her elderly husband with Alzheimer's in the neck with two steak knives.
79-year-old Harold Tanner suffers from Alzheimer's and is cared for by his wife 52-year-old Deborah and his step-son William Davis at their home on the 4700 block of 61st Avenue Terr. W. in Bradenton.
A Manatee County Sheriff's report says on Tuesday, around 11AM, Mrs. Tanner stabbed Mr. Tanner in the neck with two steak knives at the same time, while Harold was lying in his bed. Deborah then called 911 to report the stabbing.
When deputies arrived Mrs. Tanner was at the front door and admitted to stabbing her husband. She said she stabbed him because she needed a rest.
Mr. Tanner received two stab wounds and was transported to Bayfront Medical Center via Bayflite in stable condition.
William Davis was asleep inside a bedroom and had no knowledge of the incident until he woke up to the noise inside the house when deputies arrived.
Deborah was arrested and is charged with attempted murder.
---
Bradenton woman scalds husband's groin with boiling water
October 9, 2008 (AP) — Authorities say a woman has been arrested in west Florida after pouring scalding hot water on her husband's groin.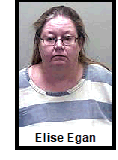 Manatee County Sheriff's Office deputies arrested Maverna Theresa Turay, 52, Wednesday on a charge of aggravated battery with great bodily harm. She was being held at the Manatee County jail on $7,500 bond.
Authorities say Mrs. Turay boiled the water and threw it on her husband's groin while he slept. He sustained second degree burns and ran out of the house screaming while a relative called 911, according to a sheriff's report.
The man was flown to a Tampa hospital for treatment. The report says Mrs. Turay did not give a reason for pouring the water on her husband, but said she had been drinking alcohol.
---
Naples woman hits boyfriend with baby stroller
December 8, 2008 (AP) — A Naples woman was arrested after throwing an empty baby stroller at her boyfriend during a heated fight, police said.
Police reports said Debra Hayes, 33, and her boyfriend, Kevin Kelly, were arguing at their home Sunday night. She then picked up an empty stroller and threw it at Kelly, cutting his lip, the report said.
Neighbor Edward Buck told The Associated Press that Ms. Hayes banged on his door and was hysterical. She told him she was worried for her baby.
Buck said police have been repeatedly called to the couple's home.
Messages left for a Kevin Kelly in Naples were not immediately returned Monday.
Debra Hayes is facing felony battery charges.
---
Wife in Brooksville accused of hiring four hit men to kill husband
December 17, 2008 — Police say a Hernando County wife hired four hitmen to kill her husband of 24 years.
Jacqucia Francois was arrested Saturday on suspicion of conspiracy to commit first-degree murder. She's being held with no bail.
Authorities say the Brooksville woman planned an early morning home invasion as part of a plot to kill her husband, but the plan fell through. They say she lied about knowing the suspects. They also found her cashing a certificate of deposit worth more than $57,000, splitting the amount into two cashier's checks.
Two other suspects have been arrested. A warrant was issued for a third person. A fourth suspect remains at large.
---
Angry wife arrested after repeatedly biting husband's penis in Deltona
December 23, 2008 — Charris Bowers, a 27-year-old Deltona, Florida woman was charged with battery after authorities say she repeatedly chomped her husband's penis.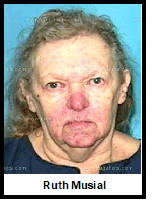 According to a Volusia County deputies, officers responded to the Bower's home after receiving a report of a possible domestic dispute.
When officers arrived, Delou Bowers told officers that he and his wife had been out to a bar earlier that night. When they returned home, his wife began to perform oral sex on him, but then began biting his penis.
He went on to tell deputies that he tried to get her to stop, but she continued to bite and chew on his penis. Delou admitted that he resorted to punching his wife in the head and face in an attempt to get her to stop, which she finally did.
Apparently unfinished, deputies say Charris Bowers then attempted to punch her husband several times before he finally threw her aside and left the room, according to the report.
Charris Bowers, the man's wife, allegedly told deputies two stories.
She first told deputies that she was sitting on the couch, minding her own business, when her husband suddenly walked over and put his penis in her mouth. "She then bit it to get him away from her," said the arrest affidavit.
Later the woman told police that her husband walked nearby with his penis exposed, prompting her to bite it.
Upon inspection of the injuries, officers concluded that the injuries warranted battery charges. Photographs were taken of the mangled member [not shown here] and Charris was booked into the Volusia County Jail.
---
Boynton Beach newlywed arrested after plotting to have husband murdered
August 5, 2009 — A South Florida woman was arrested Wednesday for allegedly hiring an undercover police officer to kill her husband of six months, authorities said.
Dalia Dippolito, 26, was charged with solicitation to commit first-degree murder and taken to the Palm Beach County jail, Boynton Beach Police Department spokeswoman Stephanie Slater said. Bond had not yet been set and it was unclear if she had an attorney.
Dippolito gave an informant pictures of her husband, 38-year-old Michael Dippolito, and $1,200 for a hit man to purchase a handgun, according to a probable cause affidavit. She also offered to create an alibi for herself and detailed her husband's daily schedule.
An undercover officer posing as a hit man called Mrs. Dippolito on Monday afternoon and arranged a meeting. The officer asked for $3,000 in cash and a key to the couple's home. The undercover officer later met Dalia Dippolito in a pharmacy parking lot and asked if she was sure she wanted her husband killed.
She laughed, according to the according to the affidavit, and said: "I will be very happy."
Dippolito discussed getaway routes, her home's security system, the location of her husband on Wednesday and the fee for the task, and the officer again asked if the woman was sure.
"I'm not going to change my mind," she responded, according to the documents. "I am 5,000 percent sure I want it done. When I set my mind to something, I get it done."
Authorities staged an elaborate crime scene outside the Dippolito home on Wednesday morning, complete with yellow crime tape and several police vehicles.
"The bottom line is, we wanted her to believe without question that when she arrived that her husband was dead," Slater said.
Officers then contacted Dippolito at her gym and told her to come to the house. When an officer told Dippolito that her husband was dead, she broke down in tears, a video of the operation shows.
Mrs. Dippolito was then taken to the Boynton Beach Police Department, where she was told of the investigation and arrested. Michael Dippolito, who was informed of the case Wednesday morning, was also at the police department, as was the undercover officer who Dalia Dippolito believed was going to kill her husband, according to a police news release.
A call to a telephone number listed for Michael Dippolito connected with a signal that sounded like a fax machine. A call to a cell phone number for Dalia Dippolito was unanswered and a message was not immediately returned.
"It seems like it just hasn't hit him yet," Slater said of Michael Dippolito. "But the more he thinks about it, the more things that have happened over the past couple months are starting to make sense to him."
---
Dunnellon woman charged with domestic violence after hitting boyfriend with raw steak
Police report she slapped boyfriend during argument over slice of bread
December 10, 2009 (AP) —A Dunnellon woman has been arrested after hitting her boyfriend in the head with a raw steak.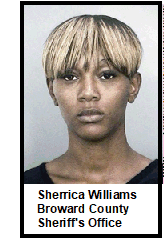 According to a Marion County Sheriff's Office report, the man told deputies Elsie Egan repeatedly hit him with the uncooked meat and slapped his face after he refused a piece of sliced bread. The man said he wanted a bread roll.
Egan, 53, denied hitting the man with the steak but did admit to slapping him, saying she did it "so that he could learn."
The man told deputies that Egan was his live-in girlfriend. He declined medical assistance.
Egan was charged with abuse of a disabled adult.
According to online records, she has been released on $2,500 bond and is scheduled to appear in court in January. It's unclear if she has an attorney.
---
Sebring man's murder tied to domestic violence, authorities say
Abstracted from article by Brad Dickerson in Highlands Today
March 5, 2010 — A 68-year-old woman who was arrested Saturday in connection with her husband's murder, "carefully planned" the death, and the incident is related to domestic violence, her arrest report states.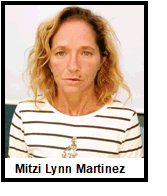 Ruth Marie Musial of 1010 Carefree Parkway, Sebring, and a former receptionist at Highlands Today, remained in Highlands County Jail Thursday under no bond on a charge of first-degree murder in the death of Gerald Musial, 62.
The report provides new information about the investigation the Highlands County Sheriff's Office started Friday in the couple's home in the Tanglewood community, but an exact cause of death is not available.
When deputies arrived at the home Friday afternoon just before 3 PM they tried to make contact with the Musials, but had no luck, according to the arrest report.
Deputies forced their way into the home and found Ruth Musial. They asked where the victim was, and she reportedly directed them to an undisclosed location inside the house. "Upon opening the...door, the victim was discovered lying on the floor deceased," the report stated.
Investigators found evidence inside the house that indicates Ruth Musial "carefully planned the murder of the victim," the report added. A large portion of the arrest report was redacted and offered no further information on how her husband died.
Ruth Musial was booked into the Highlands County Jail Tuesday afternoon after she was transported from Tampa General Hospital, where she had been recuperating from what sheriff's investigators categorized as apparent self-inflicted injuries.
She had been on suicide watch where she was being checked on every 15 minutes, said Sheriff's Detention Capt. Bobby Green Wednesday, adding that she would be re-evaluated by a doctor periodically.
Autopsy findings for Gerald Musial are pending toxicology results, according to the state Medical Examiner's Office.
---
Domestic violence charges against retired Tampa Bay Buccaneer Warren Sapp
March 24, 2010 — Prosecutors for the Miami-Dade State Attorney's office dropped a misdemeanor domestic battery charge against retired NFL defensive tackle Warren Sapp, it was reported.
Sapp was arrested after allegations surfaced he choked a woman in his Florida hotel room the day before Super Bowl XLIV.
At the time Sapp was working as an analyst for the NFL Network, but the network dismissed him after the arrest, and he has not returned since the arrest.
"We appreciate that the State Attorney's office conducted a thorough investigation into these allegations and determined that no charges should be filed," Sapp's attorney, said, according to ESPN.com.
The alleged incident started when a woman said she had a fight with the former Tampa Bay Buccaneer February 6 th at Shore Club Hotel located in Miami Beach.
The affidavit said Sapp choked the woman, pushing her down on a couch, while grabbing her by her shirt and neck.
Sapp told authorities that the woman fell on her leg when he tried to help her get off the couch.
"From the beginning, Mr. Sapp was always confident that the system would work and he would be cleared of any wrongdoing. Warren looks forward to putting this matter behind him," Sapp's attorney added.
---
Deerfield Beach woman hits husband with SUV and keeps going
Abstracted from article in the Sun-Sentinel
She then covered his mouth with his shirt to silence him
September 13, 2010 — A recently married couple's argument boiled over in Deerfield Beach when the wife rammed her husband with an SUV, kept driving until he fell off the hood, then tried to gag him after he cried out for help.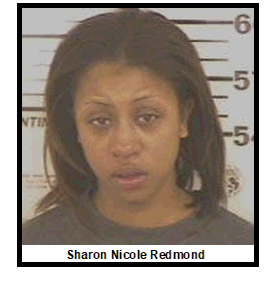 Virgil Lemons, 28, was walking two blocks from his home, in the 400 block of Northwest First Terrace, at about 10:15 PM when he was "suddenly struck" by the SUV driven by his wife, Sherrica Williams, 26. After being hit, Lemons landed on his back on the Infiniti's hood and was driven around the parking lot of True Vine Church of God in Christ, at 408 NW First Terrace.
Two witnesses watched as Sherrica Williams eventually hit the brakes, causing Lemons to "roll off" and fall to the ground. The victim cried out for help and told Ms. Williams to leave him alone. Instead, she removed her husband's shirt and "put it over his mouth in an effort to quiet him." "Shut up!" Ms. Williams shouted repeatedly, according to the Sheriff's Office. She told her husband she would "do anything, just don't call the police."
Other people arrived and asked if everything was OK, to which Ms. Williams replied that "everything was fine." When two bystanders left the crash site to tell Lemons' mother about the incident, Ms. Williams drove away.
Responding to a report of domestic violence, deputies found Virgil Lemons on the ground unable to move. He told deputies his wife had "done this" to him, the report said.
Officials were able to interview eyewitnesses, and Ms. Williams turned herself in at the Broward County Sheriff's Office the day after the attack. She was charged with one count of aggravated battery with a deadly weapon, namely a 2003 Infiniti FX. As a condition of her release Ms. Williams was ordered not to have any contact with her husband.
Lemons was treated and subsequently released from an area hospital. At the hospital, Lemons declined to give details to Broward Sheriff's deputies and told them he didn't want to press charges against his wife.
Sherrica Williams and Virgil Lemons were married in Broward County in November 2009 and have at least one child together. Why they were quarreling isn't clear.
---
Wanton tamale assault lands Bradenton teaching assistant behind bars
November 15, 2010 —A Bradenton woman was arrested Saturday morning for domestic battery after allegedly assaulting her boyfriend with a plate of tamales. Adyan Sanchez, 30, told cops that she tossed the corn-based projectiles at her boyfriend after he called her a "bitch" in front of the couple's one-year-old son.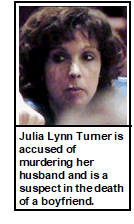 According to a police report deputies responded to a 911 call from the Bradenton home shared by the couple. Upon their arrival, officers found the alleged victim, Roberto Olvera, with "tamale sauce all over his pants."
As officers were interviewing Olvera, Sanchez "burst in interrupting him telling him to tell me that he called her a bitch" during an argument earlier in the day, and that "she threw the tamales on him because she is not going to let him call her a bitch in front of her son and get away with it."
Sanchez, a teacher's assistant, was booked into the Manatee County Jail on a misdemeanor battery count. She was released after posting $500 bond.
---
Stories — 2011 to present
---
83-year-old DeBary woman charged with felony in husband's beating
Abstracted from stories by Patricio G. Balona, Daytona Beach News Journal and WNDB News 1150
January 20, 2015 — A DeBary woman was arrested after deputies said she drove herself and her husband to the hospital to get treated for injuries from a fight at home.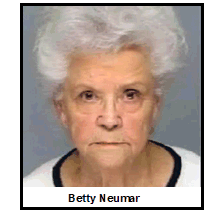 Charlene Earle, 83, was charged with battery on a person older than 65, a felony. She drove with her husband Charles Earle, 87, to Florida Hospital Fish Memorial in Orange City to have their injuries tended to, investigating Volusia County sheriff's deputies said.
A nurse in the emergency department called deputies after 11 PM Saturday and told them 87-year-old Charles Earle said he was injured in a fight with his wife as "mutual combatants," sheriff's reports state. The couple have been married 64 years.
The Volusia County Sheriff's Office charged the 4'11, 88 pound woman with felony domestic battery after deputies determined she cut her elderly husband's arm with her fingernails and caused bruises on that arm.
Mrs. Earle was arrested and booked into the Volusia County jail but was later released on her own recognizance.
According to the arrest report, she and her husband — 87-year-old Charles Earle — told deputies they drove to the hospital together after getting into a physical fight with one another earlier that night.
When questioned, Charlene told deputies she and her husband got into a "disagreement" while she was cooking dinner at their Quail Hill Drive residence, but claimed she didn't remember what their disagreement was about. Charlene did tell deputies that her husband didn't mean to hurt her intentionally.
Her husband told deputies a similar story, also claiming that he didn't remember what they were fighting about, per the report.
Charles did tell officers his wife grabbed his left forearm with her hands during that fight, leading to 2 lacerations in that area. The report also shows Charles admitting to deputies that older bruises and healing cuts they had found on his other forearm also came from prior fights with his wife.
Charlene had "severe" bruising and lacerations on both her forearms, minor swelling on her upper lip, a bruise on her left cheek and more bruises near her neck and clavicle areas as well as a damaged pair of eyeglasses, according to the report.
---
Palm Bay woman charged with attempted murder, arson
February 13, 2015 — Police have arrested a Palm Bay woman after they say she lit a piece of material inside a soft drink container on fire and rolled the device down an embankment into a homeless tent where two men were sleeping.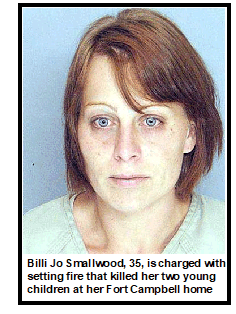 According to an arrest report from the Palm Bay Police Department, 50-year-old Mitzi Lynn Martinez of Palm Bay was arrested just after 1 PM.
The report states that Barry Allen and David Smith, who were inside the tent at 4751 Dixie Highway (U.S. 1) escaped once they felt the heat of the fire. Additionally, Ms. Martinez also threw several items belonging to the victims down the embankment that had been left at Martinez's home earlier in the evening.
The genesis of the incident began Thursday evening when Allen and Smith were at Martinez's residence drinking beer. At one point, Ms. Martinez gave David Smith $15 and told him to go the store for more beer. Shortly thereafter, Barry Allen and Mitzi Martinez got into an argument and Allen left the residence, met Smith and the two went back to the tent.
Five hours later, Allen and Smith's tent was on fire.
Prior to her arrest, Martinez admitted to throwing the victims' belongings down the embankment. Police report that she eventually admitted to throwing the flaming material down the embankment toward the tent. She also acknowledged that she knew Allen and Smith lived in the tent.
MItizi Lynn Martinez was charged with two counts of attempted murder, one count of arson, and one count of throwing a fire bomb.
---
| EJF Home | Find Help | Help the EJF | Comments? | Get EJF newsletter | Newsletters |
| Domestic Violence Book | DV Site Map | DV bibliography | DV index |
| Chapter 10 — Domestic Violence Against Men In The United States |
| Next — Stories Of Abused Men In Georgia |
| Back — Stories Of Abused Men In Delaware |
---
This site is supported and maintained by the Equal Justice Foundation.